Women's Suffrage, Reconstruction and the Remarkable Rollin Sisters: A Film and Panel Discussion Event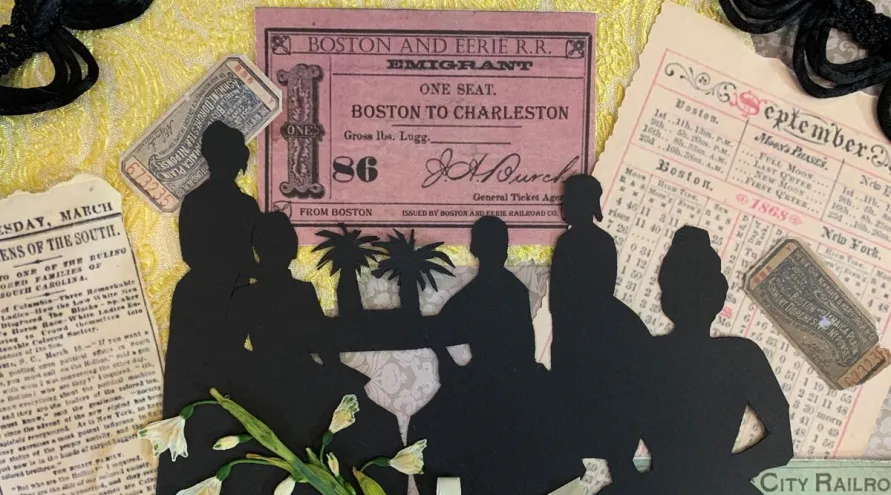 Date:
Tuesday, November 16, 2021
Time: 6:30 pm
Location:
Booker T. Washington Auditorium, USC, 1400 Wheat St, Columbia, SC 29201 and on Facebook Live
South Carolina ETV, the ETV Endowment of South Carolina, the University of South Carolina Center for Civil Rights History & Research and University South Caroliniana Society invite you to a special community event exploring the lives and suffrage work of the Rollin sisters of South Carolina. Despite their inability to vote or hold political office, Francis, Charlotte, Catherine, Marie Louise and Florence Rollin, who were born to an aristocratic, free Black family in Charleston, were among the most influential people in South Carolina politics. ETV's recent documentary, Sisterhood - The Rollin Sisters:  Reconstruction Through 1895, examines the sisters' efforts in the capital city, Columbia, and beyond, and their dreams that were center stage before being crushed by the fall of Reconstruction. Rollin descendent Carol Ione Lewis and historians Drs. Valinda Littlefield and Marjorie Spruill will join moderator Beryl Dakers for a panel discussion after the film. On display in the lobby will be a selection of materials drawn from the holdings of the South Caroliniana Library that document African American life in South Carolina during Reconstruction.
You may join us in-person or virtually. Early in-person registration is strongly recommended as our seating capacity is limited due to venue COVID-19 precautions. We also will offer a virtual opportunity for the panel discussion, along with film access. More virtual information will be provided upon registration.
REGISTER FOR IN-PERSON OR VIRTUAL EVENT
About SISTERHOOD
South Carolina ETV (SCETV) celebrated the 100th anniversary of the passage of the 19th Amendment with its Sisterhood: South Carolina Suffragists initiative. It is comprised of three documentary films, 12 SC Public Radio segments, a dedicated online site, and K-12 lesson plans and supplemental materials. Achieved with support from South Carolina Humanities, this multi-platform effort aims to recognize the role South Carolina women played in the national movement that eventually guaranteed more than 26 million women the right to vote in the United States.  
Each of the three films focuses on a different set of South Carolina sisters who played a critical role in the women's suffrage movement -- the Grimke sisters, the Rollin sisters and the Pollitzer sisters. Spanning the 90 years that led up to the passage of the 19th Amendment, the films explore the impact of these trailblazing women, examining the eras in which they lived and the progress they incited.
Beryl Dakers, SISTERHOOD executive producer, states: "The impetus for the Sisterhood: South Carolina Suffragists trilogy came about as we realized that with all the hoopla surrounding the centennial celebration of the passage of the 19th Amendment, we heard little to nothing about South Carolina women involved in the long ensuing struggle for women's suffrage.  We have chosen to spotlight three sets of biological sisters who were all instrumental in different phases of the suffrage movement, but whose achievements are seemingly not well acclaimed today. I believe they were brilliant, sensitive, fearless, well-spoken, selfless and imperfect, but truly dedicated advocates for human rights.  They are South Carolinians, and we should claim them and give them their due."