We're cooking up great things this summer!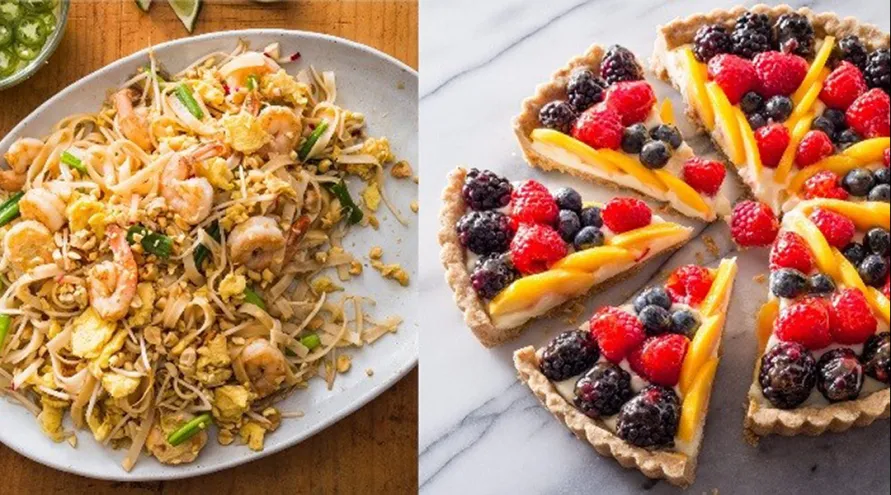 In less than two weeks, the co-hosts from America's Test Kitchen will visit the Palmetto state for an exciting event at SCETV studios in Columbia. A fundamental part of the SCETV and South Carolina Channel cooking program block, America's Test Kitchen is midway through its 18th season on public television. Since 2001, viewers have learned from the test kitchen where recipes are perfected, ingredients are tasted and equipment is tested all with the goal of helping home cooks experience success in the kitchen.
ETV Endowment members, while the event is currently sold out, we encourage you to join the waitlist in case tickets become available. Details and reservation links are available on our calendar of events. Thank you for your support of public media programming – you help bring wonderful programs like America's Test Kitchen to South Carolina!
Let's meet Julia and Bridget!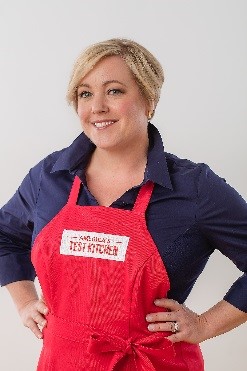 Julia Collin Davison is executive editor for the book division of America's Test Kitchen, cohost of America's Test Kitchen, and an on-screen test cook for Cook's Country from America's Test Kitchen. She began working as a test cook for Cook's Illustrated in 1999 and is responsible for the food and recipe development for all America's Test Kitchen cookbooks. She holds an A.O.S. degree from the Culinary Institute of America and a B.A. in Psychology and Philosophy from SUNY Albany. Before coming to America's Test Kitchen, Julia worked in Albany, the Berkshires, San Francisco, and the Napa Valley at several restaurants, catering companies, schools, and wineries.
Bridget Lancaster is the executive editor for new media, television, and radio at America's Test Kitchen, cohost of America's Test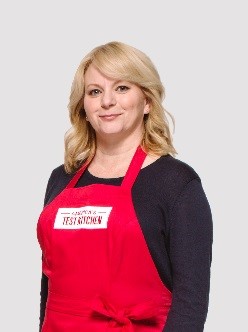 Kitchen, and an on-screen test cook for Cook's Country from America's Test Kitchen. She joined the Cook's Illustrated team in 1998 and is an original cast member of both television shows, as well as a cohost for America's Test Kitchen Radio. Bridget currently serves as the lead instructor for the America's Test Kitchen Online Cooking School and helps develop and produce courses for the school. Her earlier career led her to cook in restaurant kitchens in the South and Northeast, concentrating on pastry.
Hit the farmers market and get cooking!
Some berries are still in season locally, and peaches and corn will be coming on in South Carolina this month. Capture the best flavors of summer with two recipes courtesy of America's Test Kitchen!
Fresh Fruit Tart
Serves 8
This recipe calls for extra berries to account for any bruising. Ripe, unpeeled nectarines can be substituted for the peaches, if desired. Use white baking chips here and not white chocolate bars, which contain cocoa butter and will result in a loose filling (see "White Chocolate versus White Baking Chips" on page 31). Use a light hand when dabbing on the glaze; too much force will dislodge the fruit. If the glaze begins to solidify while dabbing, microwave it for 5 to 10 seconds.
Crust
1 1/3 cups (62/3 ounces) all-purpose flour
¼ cup (1¾ ounces) sugar
1/8 teaspoon salt
10 tablespoons unsalted butter
2 tablespoons water
Tart
1/3 cup (2 ounces) white baking chips
¼ cup heavy cream
1 teaspoon grated lime zest plus 7 teaspoons juice (2 limes)
Pinch salt
6 ounces (¾ cup) mascarpone cheese, room temperature
2 ripe peaches, peeled
20 ounces (4 cups) raspberries, blackberries, and blueberries
1/3 cup apricot preserves
1. For the Crust: Adjust oven rack to middle position and heat oven to 350 degrees. Whisk flour, sugar, and salt together in bowl. Melt butter in small saucepan over medium-high heat, swirling saucepan occasionally, until foaming subsides. Cook, stirring and scraping bottom of saucepan with heatproof spatula, until milk solids are dark golden brown and butter has nutty aroma, 1 to 3 minutes. Remove saucepan from heat and add water. When bubbling subsides, transfer butter to bowl with flour mixture and stir until well combined. Transfer dough to 9-inch tart pan with removable bottom and let dough rest until just warm, about 10 minutes.
2. Use your hands to evenly press and smooth dough over bottom and up side of pan (using two-thirds of dough for bottom crust and remaining third for side). Place pan on wire rack set in rimmed baking sheet and bake until crust is golden brown, 25 to 30 minutes, rotating pan halfway through baking. Let crust cool completely, about 1 hour. (Cooled crust can be wrapped loosely in plastic wrap and stored at room temperature for up to 24 hours.)
3. For the Tart: Microwave baking chips, cream, lime zest, and salt in medium bowl, stirring every 10 seconds, until baking chips are melted, 30 to 60 seconds. Whisk in one-third of mascarpone, then whisk in 6 teaspoons lime juice and remaining mascarpone until smooth. Transfer filling to tart shell and spread into even layer.
4. Place peach, stem side down, on cutting board. Placing knife just to side of pit, cut down to remove 1 side of peach. Turn peach 180 degrees and cut off opposite side. Cut off remaining 2 sides. Place pieces cut side down and slice ¼ inch thick. Repeat with second peach. Select best 24 slices.
5. Evenly space 8 berries around outer edge of tart. Using berries as guide, arrange 8 sets of 3 peach slices in filling, slightly overlapping slices with rounded sides up, starting at center and ending on right side of each berry. Arrange remaining berries in attractive pattern between peach slices, covering as much of filling as possible and keeping fruit in even layer.
6. Microwave preserves and remaining 1 teaspoon lime juice in small bowl until fluid, 20 to 30 seconds. Strain mixture through fine-mesh strainer. Using pastry brush, gently dab mixture over fruit, avoiding crust. Refrigerate tart for 30 minutes.
7. Remove outer metal ring of tart pan. Slide thin metal spatula between tart and pan bottom to loosen tart, then carefully slide tart onto serving platter. Let tart sit at room temperature for 15 minutes. Using peaches as guide, cut tart into wedges and serve. (Tart can be refrigerated for up to 24 hours. If refrigerated for more than 1 hour, let tart sit at room temperature for 1 hour before serving.)
Corn Fritters
Makes 12 fritters
Serve these fritters as a side dish with steaks, chops, or poultry or as an appetizer with a dollop of sour cream or our Maple-Chipotle Mayonnaise or Red Pepper Mayonnaise (recipes follow). Our recipes for Basil Mayonnaise and Sriracha-Lime Yogurt Sauce are available for free for four months at CooksIllustrated.com/aug17.
4             ears corn, kernels cut from cobs (3 cups)
1             teaspoon plus ½ cup vegetable oil
               Salt and pepper
¼             cup all-purpose flour
¼             cup finely minced chives
2             tablespoons grated Parmesan cheese
1              tablespoon cornstarch
                Pinch cayenne pepper
1             large egg, lightly beaten
1. Process 1½ cups corn kernels in food processor to uniformly coarse puree, 15 to 20 seconds, scraping down sides of bowl halfway through processing. Set aside.
2. Heat 1 teaspoon oil in 12-inch nonstick skillet over medium-high heat until shimmering. Add remaining 1½ cups corn kernels and ⅛ teaspoon salt and cook, stirring frequently, until light golden, 3 to 4 minutes. Transfer to medium bowl.
3. Return skillet to medium heat, add corn puree, and cook, stirring frequently with heatproof spatula, until puree is consistency of thick oatmeal (puree clings to spatula rather than dripping off), about 5 minutes. Transfer puree to bowl with kernels and stir to combine. Rinse skillet and dry with paper towels.
4. Stir flour, 3 tablespoons chives, Parmesan, cornstarch, cayenne, ¼ teaspoon salt, and 1/8 teaspoon pepper into corn mixture until well combined. Gently stir in egg until incorporated.
5. Line rimmed baking sheet with paper towels. Heat remaining ½ cup oil in now-empty skillet over medium heat until shimmering. Drop six 2-tablespoon portions batter into skillet. Press with spatula to flatten into 2½- to 3-inch disks. Fry until deep golden brown on both sides, 2 to 3 minutes per side. Transfer fritters to prepared sheet. Repeat with remaining batter.
6. Transfer fritters to large plate or platter, sprinkle with remaining 1 tablespoon chives, and serve immediately.
Tune in!
You can catch America's Test Kitchen throughout the week in South Carolina. Check the SCETV schedule for episode details:
Sundays, Mondays, Wednesdays, Fridays at 12:00 am on SOUTH CAROLINA CHANNEL
Sundays, Mondays, Wednesdays, Fridays at 2:30 am on SOUTH CAROLINA CHANNEL
Saturdays at 2:00 pm on SCETV
Happy cooking!