New programming, made possible by your loyal support!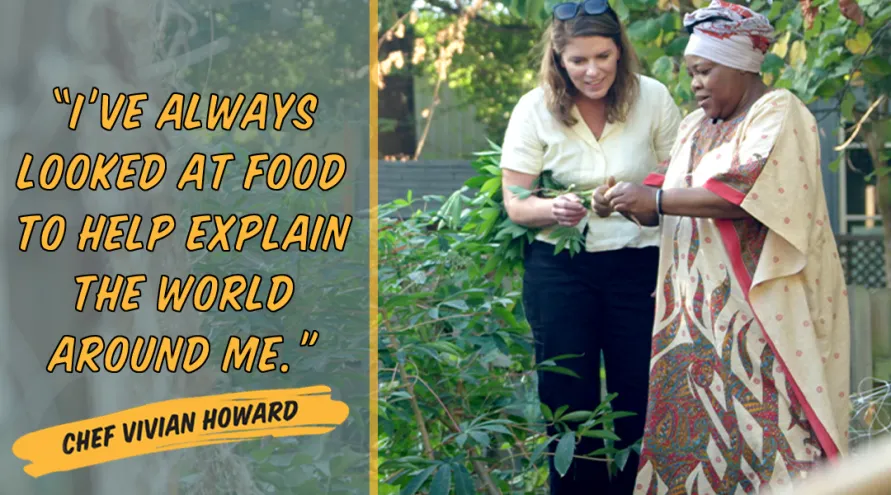 Dear Viewers and Listeners:
In April two of our SCETV Presents series return to the national schedule. In its second season, Reconnecting Roots links uniquely American institutions and innovations from the past to the present day with humor, interviews and storytelling. Now in its fifth season, Reel South continues to bring viewers a look at the history, people and culture of the South, as told by diverse voices and perspectives.
In her new series, Chef Vivian Howard is Somewhere South, exploring savory dishes and unique traditions that unite people across the South.
MASTERPIECE debuts World on Fire, an emotionally gripping WWII drama that follows the fates of ordinary people in five countries affected by the war. Another MASTERPIECE presentation, Baptiste follows French detective Julien Baptiste a he becomes drawn into a human trafficking case. The ever-popular Father Brown begins an eighth season, with new whodunits for the priest to solve.
For science aficionados, The Gene: An Intimate History tells the history of the human genome, weaving science and personal stories. H2O: The Molecule That Made Us tells the human story through our relationship with water. And Spy in the Wild is back for another season of animatronic "spies" who give viewers an inside peek at wild creatures' behavior.
We've got a wide variety of programming this month, only made possible by your loyal support!
Anthony Padgett
President & CEO
SCETV/SC Public Radio