A Chef's Life comes to a close with Harvest Special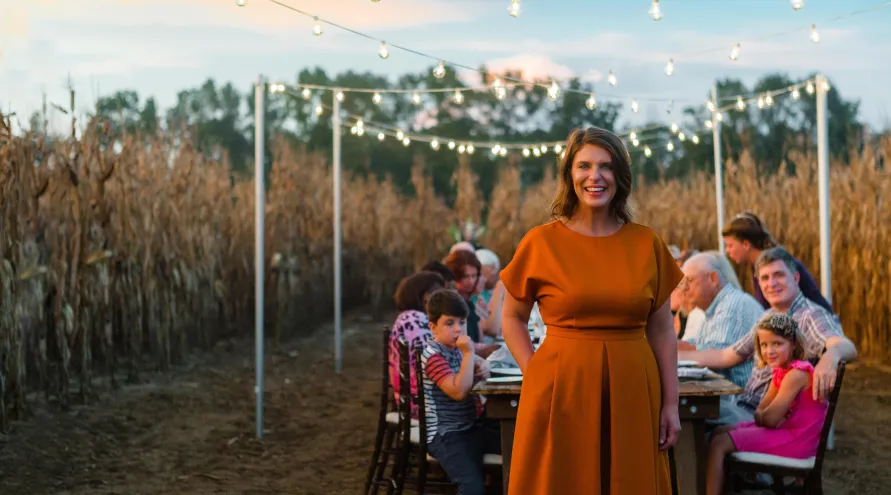 For the past five seasons, Vivian Howard has taken us on her journey to explore the South one ingredient at a time. Whether you've enjoyed trying something new in the kitchen, learning about the ingredients of the South or just following Vivian along on her endeavors, A Chef's Life has brought something to the table for everyone.
In the upcoming hour-long episode, A Chef's Life Harvest Special, Vivian will host a harvest dinner of epic proportions, bringing the beloved series to a close.  After five seasons, only a handful of dishes remain on Vivian's bucket list. In this final chapter, she tackles them all. Vivian and Ms. Lillie clean out Warren Brothers' pepper patch to make this late summer relish some call chow chow and others call "Southern kimchi." Vivian's search for a couple of quintessential North Carolina ingredients take her to opposite ends of the state. She finds pawpaws — a tropical-tasting fruit — in a backyard orchard near Goldsboro, N.C. Vivian revisits memorable clips from past seasons and shares never-before-seen footage as the show's most beloved personalities gather for this celebration.
A Chef's Life Harvest Special will air October 22 at 9 p.m. on SCETV. To celebrate the series finale, PBS Digital is offering free streaming of all A Chef's Life episodes now through November 30. 
Vivian won't be leaving SCETV for long though, a new series will be coming to you from the same production company as A Chef's Life. This exciting six-episode prime time series on PBS will focus on cross-cultural dishes that have found a home in the American South. You won't want to miss this new culinary tour with Vivian as she explores the tastes the South has to offer.