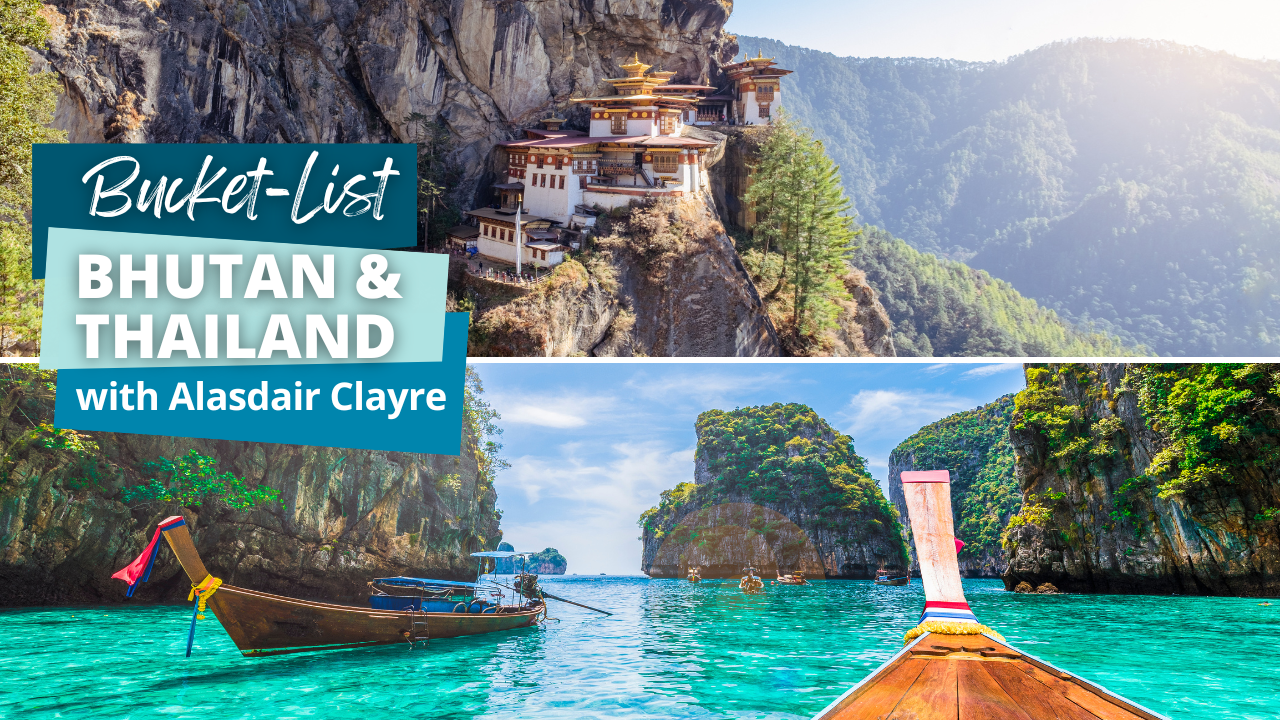 March 14-29, 2024
Please note that Bhutan is a bucket-list destination which restricts annual visitor numbers with a high per diem Sustainable Development Fee and limited flights. We have organized this exclusive trip to coincide with the colorful spring festival season, the hardest but most rewarding time of year to visit this extraordinary country. Space is extremely limited, so book early to avoid disappointment!
Next spring, join the ETV Endowment on a magical voyage of discovery - from the mystical Himalayan Kingdom of Bhutan to the fabled tropical island of Phuket in Thailand. We journey through Bhutan's lush mountain valleys dotted with ancient monasteries and castles, joining in local festivities.
In Thailand, we stay in the heart of bustling Bangkok, then head north to experience tranquil Chiang Mai and visit an elephant sanctuary before finishing our trip island-hopping in the south.
In Bhutan, The Kingdom of the Thunder Dragon, we'll join the locals in celebrating their spectacular annual Talo Tshechu Festival. This colorful event commemorates Zhabdrung Ngawang Namgyel who unified Bhutan in the 17th Century, defending Bhutan from all foreign invaders. With mesmerizing dances and rituals, every step and gesture weaves together centuries-old stories and traditions.
We'll crest the 10,000-foot Dochu La Pass with its panoramic views and visit monasteries and castles, both in the valleys and clinging to cliffs. There will be local markets and archery tournaments! Experience a completely different world in safety and comfort with the ETV Endowment. In the words of Conde Nast Traveler Magazine, "Nestled on the mountainous edge of the Himalayas, this tiny but mighty kingdom is a once-in-a-lifetime splurge worth every penny."
The bustling metropolis of Bangkok will be a dramatic contrast. From the sanctuary of our riverside hotel, we skip the traffic to explore the city by boat. We'll visit the magnificent Grand Palace, the highly revered Wat Phra Kaew and finish at Tha Maharaj, the community craft market. Then we'll fly north to Chiang Mai. Founded in 1296, it was the capital of the independent Lanna Kingdom. Here, we stay in a boutique hotel inside the moat of the old town and take a day trip into the countryside to visit ChangChill Elephant Park and the tribal Cultural Centre of the Karen people.
As a finale, we fly south to Phuket Island and stay in a five-star spa resort on the Andaman Sea. We'll charter our own catamaran for a sunset dinner to Coral Island and a private speed boat out to Phi Phi Island where Leonardo DiCaprio's The Beach was filmed.
By the end of our trip, we should fully understand why the Thais are so sabai sabai and sanuk. Sabai means to be relaxed, comfortable and content. It is a rule of life for Thai people that whatever they do, it has to be sanuk. They must derive pleasure and joy from all aspects of their lives. At our Farewell Dinner, we can reflect on all we have learned and enjoyed on our epic voyages through The Kingdom of the Thunder Dragon and the Land of Smiles.
Click to view the full itinerary
For questions or assistance with registration, contact Amy Raffo by calling 1-877-253-2092.